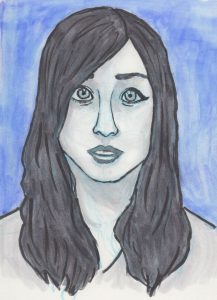 Age: 25
Website: 
www.youtube.com/user/rikkipoynter rikkipoynter.com
Location: United States of America
25-year-old YouTube star Rikki Poynter is working to ensure that deafness is not a barrier to enjoying video content on her favorite video sharing site, and Google is listening.
Poynter developed her interest in YouTube as a teenager soon after her graduation from high school.
"After high school graduation in 2009, I needed something to do. I was depressed, lonely, and I had no idea where I was going in life because I had little direction."
However, in YouTube, Poynter discovered her calling and found a sense of purpose. By sharing videos, Poynter was able to combine her interest in technology with her passion for teaching others how to style their makeup in interesting ways.
"Technology, physical and digital, and social media are in my life every single day."
After four years of filming makeup tutorials and becoming more familiar with the challenges facing the YouTube platform, Poynter decided that she wanted to shift her focus from the kinds of content that she had become accustomed to creating to new YouTube ventures. Reflecting on ways to help improve the platform, Poynter quickly realized she could use her own experience as a guide.
"I was just tired of seeing so many videos that I wanted to watch and understand 100% not have captions. I wanted my other d/Deaf/HOH friends to be able to watch YouTube and understand what's going on."
Although YouTube attempted to solve this accessibility problem through creating a computer program to turn the sound of their videos into closed captioned text, Poynter notes that the program was not effective enough and often ended up leaving her even more confused about what was said in the video.
"When I kept looking at the automatic craptions (yeah, we call it that), it made me mad seeing that. How are we supposed to know what's being said? Videos about concealers had auto craptions that wrote about zebras. Two completely different subjects!"
Poynter began to raise awareness for her ideas by posting a video call to action to content creators on the site entitled "YouTubers, You Need To Close Caption Your Videos". In the video, Poynter asks the content creators themselves to try and produce transcripts for the audio of their videos in order to make the videos more inclusive for deaf and hard of hearing individuals.
The video was well received. Soon after posting, other YouTubers began creating a larger audience for the message by mentioning Rikki and her cause in their own videos. One such YouTuber—Tyler Oakley—garnered nearly two million views for his support of Rikki and her cause. Furthermore, Lilly Singh (Superwoman) got inspired by Rikki and started captioning her videos. Outside of YouTube, the video garnered features in a number of media outlets, including BBC, ABC, and Huffington Post among others.
Since the success of her initial video, Rikki has continued to upload videos advocating for deaf and hard of hearing inclusion on YouTube. In September Rikki launched a new campaign entitled #NoMoreCraptions, functioning as another push for inclusion. By continuing to encourage video creators to not only add captions but to add them correctly, Rikki hopes to accelerate the success of #NoMoreCraptions. In addition, Rikki's online presence has helped her develop offline advocacy ranging from speeches to conventions of YouTubers at VidCon to policy conversations with Google.
"I work every day to figure out how I'm going to get one more YouTuber or any online content creator to caption their videos."
Rikki's most recent work has made her think about digital technology as a means of empowering young people with disabilities by allowing them to find safe spaces that are uniquely their own.
"I think digital technology helps people with disabilities become empowered. My friends and I just finished up a disabilities panel at VidCon. We were able to help create a safe space for young disabled people to talk and listen. YouTube is a great place to create your own opportunities. I struggled finding opportunities before I got into YouTube. I struggled even during the first few years. Now, I've been able to get opportunities because I made my own space."
Through her efforts with YouTube and digital technology, Poynter has been able to find a supportive community of other young people while also pushing for inclusion deaf and hard of hearing individuals the world over.
Advice to decision makers:
"I want the people with higher connections to look at us as human. It's been difficult for lots of us to get by, but that's because we've often been shut down. I'm hoping that these people will listen to our stories shared through the Internet and digital technology and learn properly. Don't pay attention to mainstream media that was created by able-bodied people. Listen to those of us that have lived this life. We are telling you the things that we need and the solution would come a lot easier and faster if our stories were heard. Give deaf folks, blind folks, folks in wheelchairs, etc. a chance. We're smart as hell and can help you out in many ways."
Illustration by Elsa Brown.